*Note: I have been trying to post this since Sunday night...hoping this time's the charm!
Just a quick mini-recap...time 4:15 and change (about 30 seconds I think). Obviously that's about five minutes off my goal time but I'm happy with it. There is no way my legs were going to run anywhere near a four hour marathon today, although in the first half I thought around 4:05-4:08 was a possibility.
I didn't fall apart as much as that sounds like in the second half. A few things contributed to my slowing time, though...
*I took a bathroom stop after the halfway point. I think it was about a minute, but it may have been a little more.
*There was a long, steep hill up to St. John's Bridge. I absolutely slowed down on that hill. There was no choice.
*I was feeling tired after 16 miles...not too surprising.
*While there were a lot of great downhill portions in the last eight miles, my legs and quads were tired enough that I didn't take as great advantage of that as I would in a half marathon.
*Just before the 25 mile point we had to
stop for a train.
(Then a little bit later there was another train crossing but some of us crossed despite flashing lights...it was clear the train wasn't going to hit us. Bad form, though.)
*I ran 26.45 miles. An extra quarter mile. So that definitely added two minutes to my time.
I was actually quite relieved to still see 4:15 on my watch when I crossed the finish line. I arranged to meet my mom at Starbucks after I crawled out of there (crawling figuratively, of course, due to my legs crashing and the convoluted, crowded route away from the race area. I think I actually did a better job getting out than I did from the half last year, though!
At Starbucks....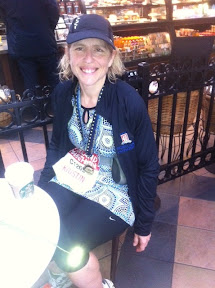 Then an ice bath at the hotel!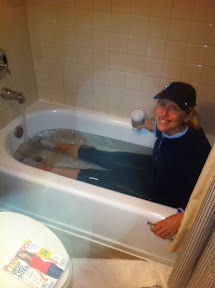 - Posted using BlogPress from my iPad