Happy Fourth of July (Independence Day)! I am taking a hiatus from eating to write a quick post. Hopefully this will keep me away from the delicious dessert options for a little while. I would like my stomach to feel a little less full before I put more in it!
First thing this morning was the Y's annual Fourth of July run. I was doing the 10K. They also have a 5K and a kids' race. And a one-mile, but maybe that's the kids' race.
The 10K started at 8:30, and I left my house around 7:30 to warm up and run to the Y. For 10K races I often do a 1.8 mile warm up. I thought I'd go about a mile and then turn towards the Y. Obviously I didn't need an hour for two miles, but I like to have plenty of extra time.
The way my legs felt as I headed out, I thought maybe I'd need all of that hour after all! My quads were still stiff and sore from the trail run, and I felt
slow.
My Garmin seemed to confirm that, flashing 11s and 12s as I
ran
plodded. There seemed to be a little Garmin voodoo going on, though, as my first mile popped up at 10:15. Not fast, but faster than expected. This gave me a little boost, and I finished mile 2 at just over 20 minutes.
(N.b., at this point I just succumbed to a small piece of rustic nectarine tart. It is very thin and light, not filling at all!)
I used the bathroom at Starbucks, then headed back to the Y for a total warm-up of 2.55 miles in just under 25 minutes.
It was about 8:15, and I used up a few of my remaining minutes standing in line in the Y restroom. Yes, I had just left Starbucks; I just wanted to be sure I had wrung out every drop I could. By the time I left the stall the line had quadrupled and I was relieved that I had relieved myself early. Ha. I felt sorry for the ladies still in line...some of whom had small children, so I am sure they wanted to empty their bladders before running! (Sorry, guess I read too many mommy blogs....)
I spent the remaining ten minutes milling about the in the starting area crowd and watching the aerobic dance warm-up. They did two songs, the first of which I don't remember and the second of which was,
obviously,
"YMCA."
Then we gathered at the starting line. I stayed a couple layers behind the front row. That worked pretty well because I didn't hold anyone back (I don't think), I didn't have to swerve around anyone, and I was able to pace myself by chasing the fasties.
At first I wasn't able to look at my Garmin, due to wearing contacts (bad close-up vision) and sunglasses (even harder to see, especially in the shade). But luckily there was a guy nearby giving his running mate a running commentary of our pace...7:30, 7:20, 7:45, 8:00 (slight incline, perhaps).
The 10K course covers streets that I have run many, many times (not just past races). In fact, most of it is on my regular weekday running route. This was good, I guess, as I knew exactly what to expect. This was just like a tempo run.
The first mile or more was a gradual downhill. I was able to eyeball my watch at the first split and saw about 7:56 (not sure about exact seconds). Pretty good, that was my goal pace for a perfect race. Of course, I would not be able to hold that for six miles.
In mile 2 we went uphill for about four blocks by the hospital. That doesn't sound far (and it wasn't), but it is a a challenging hill and it did slow me a bit. After 11th or 10th street we headed back downwards for a stretch before turning north on Alverson toward Legion Park.
(Just broke for a piece of plum tart. Don't worry, it's like air, really. I like it even better, the plums are so, um, tart and tasty! It's tartalicious.)
At this point I began running adjacent to an older male (you know, my age), who seemed to be running about the same pace as me. We traded places up through about mile 4. (That's where I dropped him.) During this last bit before the turnaround (just before the halfway point) I thought we were going downhill and would have to go back up after the turn. But it was one of those mysterious optical illusion false downhills, because after we turned it was clear that
now
we were going downhill. This would only last a short while, though, as we would soon approach the most irritating hill on the course (to me, at least).
I took a water cup at the three mile aid station. I had been feeling a little dry throat, so I gave up the seconds it cost. My second and third miles had been slower than the first, probably in the 8:15 range. I also knew that the first half was the faster half of the course, logistically and historically for me.
When we got to the hill I had mildly dreaded, my pace (and that of my pacer) slowed. What I have found about this hill is also that it is a challenge to get back up to pace when the road flattens out. For a long time my Garmin was reading 8:30 and I couldn't get it to budge. Finally it wavered to 8:25. Of course, it's not like I really trust the Garmin to be reliable.
Let me tell you, running 10K effort is hard. My breathing was labored and my gut was clutching. 8:20 felt as hard as 7:45, actually. Neither one of them felt particularly fast to my legs, and actually I am somewhat surprised that my pace was as fast as it was. I actually had felt a lot stronger on Friday, when I was running the same stretch at a 9:15 pace and chatting easily with someone riding alongside me on a bike.
I believe that my last three miles, before t he break to the finish, were in the 8:20s. After mile 4 I thought it would be good to speed up, and perhaps I did, but not significantly. I did leave my pacer behind and pass a few others, but I think that was more about them fading than me speeding up. I really wanted to put a push on in the last full mile, but....
However, I did manage a kick in the last quarter mile. It helped that we had a bit of downhill to the finish. When, I passed six miles I thought I had a shot at 50 minutes (meaning under 51) but my math was weaker than my legs. Or maybe I should say, as weak as my legs. I was, however, running around a 7:30 pace for this last quarter mile.
Sadly, I saw 51 minutes pass before my eyes while the finish line was still ahead of me. I barreled across and pushed my stop at 51:13. With a little luck, my official time may have been a second faster. According to Garmin, 6.25 miles at 8:12 pace. My official 10K pace would be about 8:15.
I quickly checked out the finish boards (old school, they staple up the bib tags in the order of finishing) to see if I might have placed in my age group. I've actually won my age group in this race in the past with a slower time than today's. However, today the 40-something fasties were out in force...well, four strong, anyway, as that's how many beat me. I recognized at least two names from the past. I'm sure they were all sub-50. I'm pretty sure I was fifth in age group. I'll probably study and analyze the results in depth when they are posted (don't worry, I won't belabor it here) but I didn't spend too much time on it today. I decided not to stay for the awards ceremony since I wasn't getting one. (Not sour grapes, just efficient allocation of time!)
My parents weren't there this year as my mother is sick, so I got no race pics and I had to take my own post-race picture.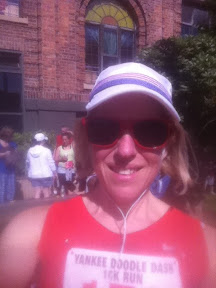 With my 2.55 mile warm up and 6.25 mile race, I wanted to run at least .2 mile more to round up to nine miles. I chugged around the block on sloooow legs. Then I figured I might as well jog as walk down to Starbucks, putting me just over 15K for the day.
Perfect for a day of eating! Rod and I dressed in red, white and blue (well, I did, his just happened) and headed to the beach.
In the afternoon, Rod entertained us from the lawn.
It was a good day!
Posted using BlogPress from my iPad