I have gotten more input into why my 10-mile trail run showed up as 9.73 miles on my Garmin. Maybe I'm not a course cutter after all!
First I read another blogger's post about how her trail runs measure short. Then my brother-in-law, who lives on Lord Hill and runs in the park, says his GPS always measures way short. This is because the trees in the woods sometimes interfere with satellite reception. Then when Garmin corrects that, it does so in a straight line, but the actual trail is wiggly and winding. That's how the mileage gets shortened.
I feel better now.
Here's a good picture of me running (borrowed from Facebook). I have no idea who that woman is behind me. I don't remember her at all! (But I guess she passed me.)
Oh, and my official time was 2:02:33. And I was third in my age group (out of 14).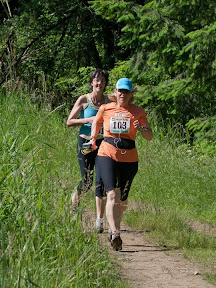 - Posted using BlogPress from my iPad