Well, I'm just about there now. In about fourteen hours* I will be heading down the road of the Tucson Marathon. For better or worse. Hopefully better. Not that I'm nervous or anything.
Here's a quick recap thus far. After less than two days at home after Las Vegas, my dad and I headed to the airport again on Wednesday morning to fly to Tucson. This marathon was a bit of a whim, although a rather well thought out whim that occurred months ago.
I had been interested in the Tucson Marathon after reading Pam Reed's memoir, The Extra Mile (she is the Tucson Marathon race director). I even had a glimmer of a thought that I might look into Tucson if Portland training went well. This all came to fruition when my mom had some 50,000 air miles to use. A casual search located two seats on direct flights to and from Tucson. My dad was "willing" to make the trip, so I booked the tickets and hotel, registered for the race, and put it at the end of my 2011 race schedule.
Fast forward to October. Portland Marathon--great! Post Portland--slow. I did draw up what I consider was a pretty good 8-week re-training plan. It included a 16-mile, 18-mile, 20-mile, and 15-mile as my longest runs, plus two half marathons, one at the beginning and one at the end. What it lacked was super successful speed work. I
did
tried to do some intervals and temp runs, but they were not really up to par. By last week, though, I decided it was all in the bank, and I wasn't going to change anything now.
After Las Vegas on Sunday evening I took Monday off work and then ran on Tuesday afternoon. My quads were really sore...why???
By the time we got to Tucson on Wednesday, got the car, and drove to the hotel, it was early evening. For dinner we shared a teriyaki chicken wrap and a spam musubi left over from food I had bought at the airport. No, I am not particularly worried about eating food that has been out for hours.
Thursday morning I ran five very difficult miles in the golf course at the hotel. It was super hilly and my legs were not loving it. I did not push it at all because I didn't want a sore quad recurrence!
The weather here starts out cold in the morning and warms up. On Wednesday it started in the mid 30s and went to the low 60s. The lows and highs have increased about five degrees by the weekend. So yes, it will be
sort of
cold tomorrow morning and pretty
hot
warm when I finish.
Our Thursday activities included a trip to Barnes & Noble and a Nike outlet store (to get my dad some shorts and a tee shirt for the hotel gym). Then we drove southeast to
Tombstone.
Kind of a hokey tourist town but it is a genuine historical location. Part of the schtick is a gunfight that starts in the street and then continues with a show in the theatre of the OK Corral. We followed the action down the street but didn't stay for the show.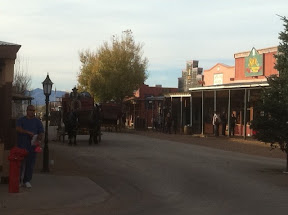 We drove back to Tucson with an amazing desert sunset in our view the whole way (until the sun actually set). I have admired the sunset a few times now but have yet to take any pictures. Maybe tomorrow? That will be my last chance.
We stopped at Safeway along the way and got food for dinner. And chocolate peppermint pretzel thins. Just don't ask.
Friday morning we hit the gym for an hour then went to Starbucks to get breakfast on our way to
Biosphere 2.
Back in the early nineties there were two human missions where a small group of people lived in the enclosed environment for two years (the first time) and six months (the second time). (Anyone remember when Lilith left Frasier Crane and went to live in a biosphere?) Nowadays they are studying plants and climates and stuff.
Anyone think there's something weird about this picture? Just me?
This was the kitchen from the human missions. I snuck inside the no entry rope but still didn't get a very good view. This was my favorite part of the tour. They showed a little video about what they cooked and ate. Part of the reason the mission ended was because they couldn't produce enough caloric food. Over two years most of the eight participants lost significant weight, from 20 to 60 pounds!
On the way up and back to Biosphere 2 we saw porta potties on the road. I was pretty sure this was part of the race course. On looking at the map later I saw that it was the second half (or the half marathon). The full marathon starts further north and the goes to the Biosphere, and back to Tucson (actually Oro Valley).
On the way back to the hotel we stopped at Whole Foods, where I spent my $20 Living Social voucher (and then some) on lunch and a bag of cookies. (Oh, delicious, delicious cookies!) My dad got a grilled cheese sandwich and I got a burger and fries (plus a salad to share). I kind of forgot that I was planning on a burger after the marathon. Oops. Well, we'll see what happens.
We ate our lunch by the pool. I only ate half my burger, which was good as I ended up having the rest of it for dinner (with pretzels in lieu of fries).
After lunch (which turned out to be a late lunch), I went over to the race expo and picked up my bib and chip, and browsed the displays. It was so much more low key than Vegas. Thank goodness. I ended up buying another shirt and a fleecy pullover, even though when I was shopping for throwaway gear at Goodwill I swore I would never buy a pricey fleece again!
And then it was Saturday (today). The last day that I don't have to run a marathon. We went to Starbucks for breakfast again (oatmeal with everything and a shared banana). Then we drove downtown to check out the Fourth Avenue Street Fair, about eight blocks of crafts and vendors and fair foods. I actually ended up buying quite a few Christmas gifts. And an order of freshly made potato chips made with one potato--about 110 calories of potato plus a million calories of oil. They were shiny and delicious. I put salt and vinegar seasoning on half and chili lime on half. Oh yum.
By the time we left at 1:15 it was almost 70 degrees and HOT in the sun. Better after I took my jacket off, though.
After grabbing lunch from Safeway (again) we went back to the hotel to relax and rest. I am a little bummed that I didn't realize that the NBC coverage of the Kona Ironman was today. I learned of it just after it was over.
Along with putting out my clothes and gear for tomorrow morning, I am going to finish the rest of Spirit of the Marathon. I think that is just what I need to get psyched up for tomorrow!
*14 hours when I started writing. Now 12.
- Posted using BlogPress from my iPad