I wrote this on the pre-Halloween weekend then forgot to publish on the day! Oops. So here's a look back at last weekend....
On Saturday I ran a 5K. The last 5K I did was on August 20...more than two months ago. The last time I ran at 5K pace was...I don't know, probably the set of 400s I did the week before Portland. So yeah, at that time I was able to run a sub-8 pace (maybe even sub-7:30) for a quarter mile at a time.
I was somewhat apprehensive about this race. I was also mad at myself for my negative attitude. Every single race that I've done this spring and summer I've gone into optimistically, and though I rarely met my high hopes, I always did just fine.
I decided that if I believed I would fail then I would. So I decided I would switch my outlook to hoping to surprise myself with speedy legs!
This was a Halloween 5K, although it was politically correctly called "Fall Classic.". Puh-leeze. People wore costumes. Not me, though...I wasn't feeling
quite
sure enough about myself to draw attention with a costume. (I wanted to be speedy in Ninja black. I did add a festive orange Roadrunners cap, though.)
The race didn't start until 10, so I had my parents pick me up at 8:30 and we got to Monroe around 9:00. That allowed me plenty of time to pick up my number, cute long-sleeve shirt and goody bag (stuffed with lots of food samples). After a couple of bathroom visits, I did a loop around Lake Tye which amounted to a 2.1 mile warm-up. Then I stood in line for one more shot at the bathroom. Happily I got to the front of the line and over to the starting area with more than five minutes to spare.
After some announcements, we were off. I took off running as I hard as I reasonably could. It felt incredibly awkward at first. Luckily after a bit I found my legs (some) and settled in around an eight-minute pace (slightly slower than that in the end, but I did see sevens flashing on my watch occasionally, which was cheering).
I didn't spend much time trying to pass people (I'm sure I did some, and was passed as well), but I did have one pace setter with whom I ran neck and neck throughout the race. She was a young lady about 10-11 years old dressed as a blue fairy...very cute. In the end I did manage to finish a little ahead of her, but she was great!
I don't have my exact splits, but my overall average was 8:15 and I think each mile was in that vicinity, give or take. My time on the clock when I crossed the finish line was 25:50 (although the race results got mixed up and they listed me as 25:58). Not good enough to place in my age group (I was fifth). I was happy enough as I had decided I would be pleased with anything 25!
By the time I finished my sister had arrived with her hub and three kids (a two-year-old and three-month-old twins). Here are some pictures taken by my mom and sister....
On the course, about mile 2.
Just after crossing the finish line. With a smile on my face.
That's my dad at the right.
Beet red face.
Yes, I am a dork. Actually I was just surprised to see my sister there (already).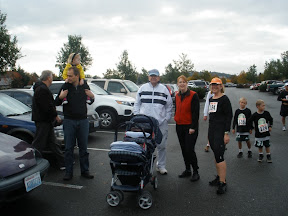 Those two little boys do not belong to us (the twins are in the stroller, perhaps the boys are their future selves); nor does the man to the left.
With my niece Eva.
Pretending to cross a finish line. We kind of ticked off the time keeper but really, we were in the 1.6 mile lane and it was 45 minutes on the clock. No one was still finishing this distance.
After leaving we went to the Cabbage Patch in Snohomish for a late breakfast. I ate three scones (they were just like Fisher Fair scones, OMG) and an egg white veggie scramble (to counterbalance the scones). Eva chose to sit with me but was reluctant to smile for the camera.
Note my iPhone in her hand--that made her happy!
On Sunday morning I took off to do my longest long run yet in this mini training cycle--16 miles (I hoped). I am trying to work on downhill running for Tucson and this run did incorporate several miles of downhill grade (although pretty gradual).
The weather seemed horribly dark and dreary but once I got out it really wasn't bad. It didn't even rain at all. After about two miles I got to go up a long, increasingly steep hill. It was exactly one mile to the intersection at the top and I did it in 10:37. I thought I was slower, so that wasn't bad. The next mile had a couple of rolling hills and a stretch of no shoulder roadway which was kind of scary.
Then I got to the Centennial Trail and the next five miles were railroad grade downhill. At some point I started to appreciate the pretty fall foliage. It really looked much nicer than this photo.
You can kind of see it's downhill though.
Running on the trail is pleasant and safe from cars, but I kind of prefer running in town. Even though it was downhill my pace was just under ten minutes per mile. I would have thought I'd be faster. I felt like I was faster when I got back out on the road dodging cars, but it stayed pretty much the same.
I hit the Armar trailhead at nine miles. I hoped the return trip through town would be shorter....and it was. I had to add a couple of little detours to make a full sixteen. As I approached the end, I put on a final burst of speed, which gave me a total time of two hours 40 minutes, and an exact pace of 10:00 per mile.
Post-Halloween addendum: On Monday morning I decided four consecutive running days was too much, and postponed my run to Tuesday. But then Monday's weather was quite sunny and nice, so I left work at 4:00 and squeezed in a 6.1 mile run before the trick-or-treaters arrived!
- Posted using BlogPress from my iPad